About Omaha Neon Sign Company
With over 95 years in the local community, Omaha Neon has grown beyond the eastern Nebraska and western Iowa area to serve regional clients, national franchises and chains.  We are inspired by Samuel J Marchese, who led our company from 1970 to 2021 and built it into the organization we are today.  He always lived by the philosophy of serving our customers well.  Today, all of Omaha Neon, along with Sam's family, continue to live up to this philosophy and belief.  We also have a dedicated team of almost 100 employees with the talents, skills, knowledge, and drive to meet our customers' needs and requirements for signs.
Our customers tell us that they choose Omaha Neon for two simple reasons: our people and price.  We are proud of that reputation and we work hard to integrate those reasons into every project.  Samuel knows that we are very competitive in price, but it is his firm belief that our employees make the biggest impact — by producing quality products and meeting/exceeding customer expectations.
The Omaha Neon sales staff is respected for their expertise in understanding the technical aspects of sign making, municipal codes and licensing requirements, but also in accommodating the client's marketing and advertising desires.  Our fabrication crews place quality into every sign made; and the on-site installation crews are personable and professional.
From the first call to routine maintenance, our customers say that "Omaha Neon people are the best!"   We appreciate their opinion and are humbled by it.
Experience
Omaha Neon has the experience you need to create your signage needs.  We will interpret the signage regulations in your community and proactively work to avoid unexpected problems throughout the project.
Providing the latest technology and design trends, we install thousands of signs every year.  Not only do you benefit from our employees deep experience, you get the best signs at the best prices.
Omaha Neon is a full service sign company offering:
Design
Permit acquisition
Manufacturing

Installation
Repair and Maintenance Service
Our products include:
Pole or Pylon signs
Monument signs
Wall signs
Channel letters, Neon or LED
Electronic message units

Awnings
Interior signs
Aisle Markers
Printed Graphics
We provide attractive and quality signs at an affordable price. Remember, the sign is always on displaying the image and reputation of your business to the public!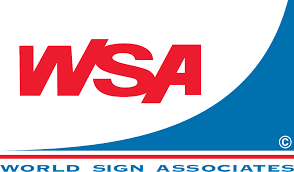 Omaha Neon is a member of the World Sign Association's (WSA) nationwide service and installation network since 1975.
WSA members undergo continuous education and are among the first to adopt progressive technologies to remain on the cutting-edge of sign design, manufacturing, installation and maintenance.
You can rest assured that Omaha Neon will manage your sign project in a professional and reliable manner. We have the experience you demand and the quality you require for working with your trusted brand.